Yes Way Rosé: Two Rosé Recipes + Six, Under $20 Bottles You'll Love
Oh how I love a rosé! It's the perfect warm weather treat. Saturday is National Rosé Day so I wanted to put something fun together to help you celebrate! I am so excited to share two amazing rosé recipes that I really can't get enough of. As always they are easy, beautiful, and delicious. There is a cocktail and a sorbet (yes way sorbet! <-- sorry, I couldn't help myself!) so make sure you catch it all. I've also rounded up six great bottles of still rosé that are all under $20.
Rosé Lemonade:
Let's start with this really easy and yummy Rosé Lemonade. All you need is your favorite bottle of rosé and some sparkling lemonade. I love this Rose Lemonade. It's so yummy on it's own. I do a ratio of about 2:1 for wine to lemonade. Simply mix the two together and enjoy! It's so refreshing.
Lemon Rosé Sorbet:
This is easily one of my favorite things I've ever made. It is so good. So good.
For this all you need is:
Your favorite bottle of rosé
1 cup of water
1 cup of sugar
1 lemon
Fresh Mint
Combine rosé, water, and sugar in a saucepan over medium heat. Squeeze fresh lemon juice from 1/2 of a lemon into the mixture. Stir consistently until the sugar dissolves. Remove the mixture from the heat and let it cool completely. I transferred it to a bowl and placed it in the fridge for about 20 minutes. Once it's cooled, pour your mixture into your ice cream maker and churn according to instructions. I have a Cuisinart and churned for 20-25 minutes. Once churned, add the sorbet to a freezer safe container. (I love this one and this one. ) I freeze mine overnight. I like to serve this in these cutie shelled lemons, but it would be equally adorable (and maybe a little less messy!) in a wine glass. I like to add fresh mint. It's delightful.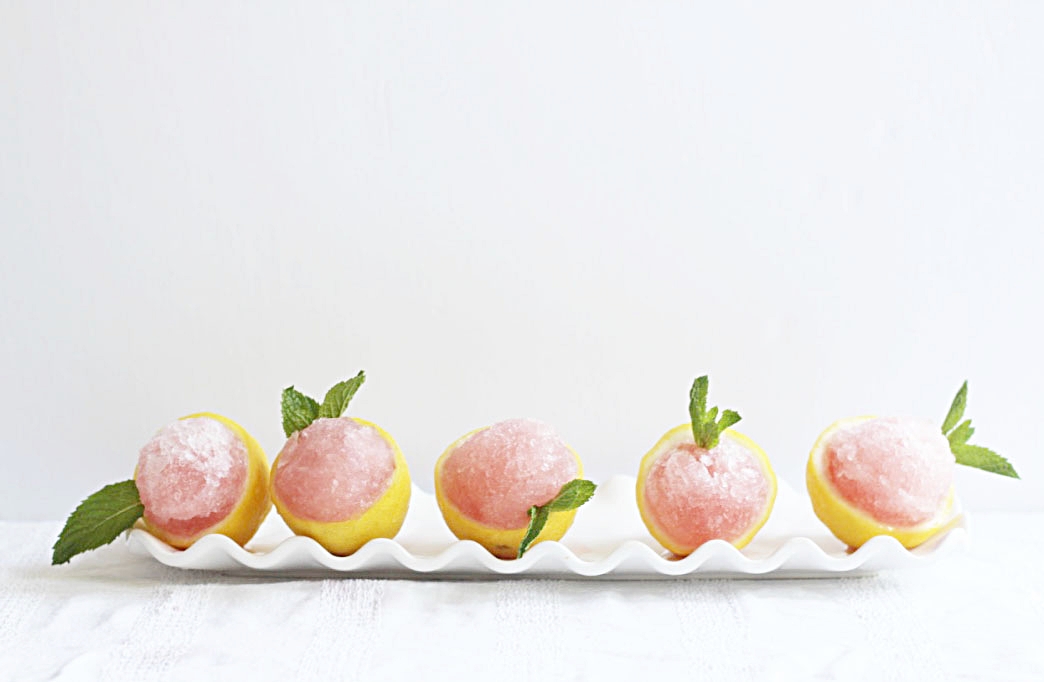 Six Bottles You Need Right Now:
And last but certainly not least, below are six terrific bottles of rosé that are all under $20. In case you're local to Chicago, I'm including where I buy them, too.
El Terrano (Whole Foods)
French Blue (Whole Foods)
Whispering Angel (Mariano's)
Vie Vite (Cost Plus World Market)
Côtes De Provence (Trader Joe's)
LaGranja (Trader Joe's)